Warm welcome to WINEEMBASSY.AT - AUSTRIAN TERROIR COLLECTION!
International Wine Experts on the diversity of Austrian wine
Dear Fine Wine Lover!
Experiencing the success of Austrian Winemaking craft in diverse global markets a key result area is the versatile Terroir of Austrian wines and versatile indigenous varieties in the different Austrian wine growing regions.
We make B2B partners Austrian Fine Wine buying decision process efficient, joyful and over all successful. 
You know your clients and demands - we know the Austrian wines, indigenous varieties, region strengths and producer capabilities.
Our knowledge will help you to surprise your clients with outstanding tasting experiences, depending on there individual wine know how & expectations.
We try to present the AUSTRIAN TERROIR COLLECTION in a consumer focused approach.
Present all relevant AUSTRIAN TERROIRS (and specific indication of ORIGINS)
Categorize it by PRICE RANGE ( €, €€, €€€ )
Categorize it by GENERIC TYPES OF WINE
Categorize it by GENERIC TYPE OF WINE is an efficient way to cluster and support your buyer base.
Our Team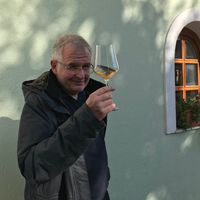 Ing. Günther Neukamp MSc.MA
Ing. Günther Neukamp MSc.MA
Position: Risk, Sales & Marketing Executive, Co-Founder of WINEEMBASSY.AT and NESTOR.WINE Halbturn
Ambition: "Its great fun to sell fantastic wines!"